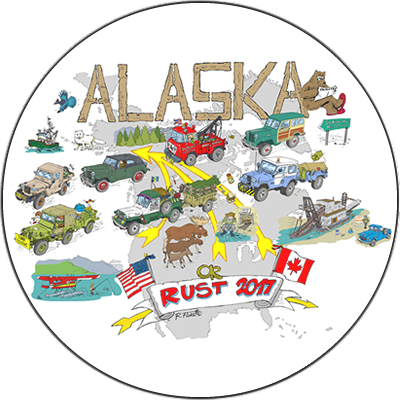 2017 marks the 75th year of the Alaska Highway. To celebrate that accomplishment, in July of 2017 a group of aged adventurers from all over the United States, in three groups, comprising no small amount of unconventional character, will tackle that famous highway.
It will not be a full-fledged, high-speed, air-conditioned affair often seen along the thousand-plus mile corridor these days. Instead, we'll be driving old jeeps, our beloved vintage jeeps, some made in the 1940s, some in the 1950s, and a few from the 1960s. Our speeds may be slow (limited to 50 mph), but our hearts are big and our intents pure.
We aren't going to cure cancer, help veterans, save children, or defeat terrorism. We are doing this for ourselves and our extended jeeperhood. We are doing it together.
When some are hungry, others will feed them. When a jeep breaks down (which likely will happen), others will be there for support. When someone is upset and cries … okay, we'll probably send that person home … But, that aside, we will aide the others!
In a time that feels divisive, we jeepers come from all walks of life. Some are richer, some poorer. Some are conservative, some liberal. Some own dogs, others own cats. But, we have jeeps and friendship in common. We hope to share our goodwill with other travelers as well as our Canadian brethren, especially since Canadians will be celebrating Canada's 150th year of confederation in 2017.
At this time, all our participant slots are full. But, for those that can't join us, we hope to bring you along, through regular trip reports on this site, on eWillys, and on Facebook. For those that want to donate to the cause, we welcome it. If by some miracle we generate more money than we spend, then we will donate the proceeds to a worthy cause.
ROUTES:
There will be three groups of jeeps heading north: one from the East Coast, led by Bill Reiss, one from the Midwest, led by Scott Gilbert, and one from the West Coast, led by David Eilers. All three groups will merge together at Dawson's Creek, British Columbia, Canada, in late July before heading north to Alaska. Final routes will be chosen, soon. Groups will be limited to about ten per unit. The trip is expected to last between three and four weeks, depending on the route and whether participants want to drive or fly back.